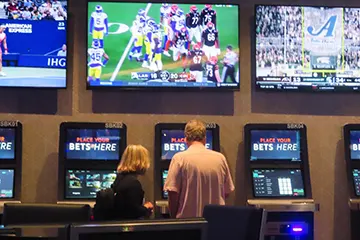 The 2023 NFL season kicked off last week and captured the undivided attention of football fans from all over the United States, including Ohio. Local problem gambling counselors expressed concerns over a 150% spike in the number of people seeking professional help, compared to 2022.
This season differs from previous ones for sports fans within the state as it has recently legalized sports betting. NFL's 2023 season is the first one during which Ohio-based punters are allowed to bet from the very start. The popular form of entertainment will undoubtedly bring more excitement for sports betting enthusiasts and tax revenue for the state. Along with the benefits of a properly regulated industry, however, there are shortcomings, which need to be addressed immediately.
On a national level, a record 73 million Americans are expected to place their wagers on the 2023 NFL games. That sparks concerns over problem gambling behavior across the country and Ohio is no exception.
Derek Longmeier, executive director of Ohio's Problem Gambling Network, shared his apprehensions about a rise in problem gambling levels. He stated that the legalization of the sports betting industry in Ohio has directly impacted the surge in the number of gamblers reaching out for professional help to resolve their gambling-related problems.
As per the sports betting legislation in force in the state, all associated marketing programs, advertisements, and materials should contain either Ohio's problem gambling helpline or the national one.
Who Seeks Help from Ohio's Problem Gambling Network?
The executive director of the Problem Gambling Network of Ohio further shared that the predominant group of gamblers seeking help consisted of young males who are aware of the latest technology developments within the sports betting industry. Furthermore, there is a positive tendency of people seeking help in the initial stage of identifying the warning signs of problem gambling.
The number of calls to the state problem gambling helpline is consistent with the seasonality of sports. Therefore, experts predict an even greater increase in the number of gamblers seeking help, as the 2023 NFL season progresses. The Problem Gambling Network of Ohio currently has the necessary resources to properly deal with the increasing volume.
The entity prepares adequately for future demands based on the example set by other states that have legalized sports betting earlier. Within a 2-year period of sports betting legalization, there is usually a peak in problem gambling cases, since people have had enough time to develop their gambling habits.
Sports betting is now legal and operational in more than 35 states. Ohio, specifically, legalized sports betting with Governor Mike DeWine's signing of House Bill 29 into law in 2021. On June 1, 2022, the Ohio Casino Control Commission announced the official launch of the industry would be on January 1, 2023. This enabled NFL fans to partially enjoy the betting action last season. During the current season, however, betting on the NFL is legally open from the outset.