Over the past few years, the US has boasted the largest number of billionaires globally, and 2023 is no exception. A total of 735 US individuals are featured on the Forbes "World's Billionaires List" in 2023. Eager to find out more about America's most prosperous, our team at SuperCasinoSites set out to examine how long it took the 50 richest self-made billionaires in the U.S. to earn their first billion.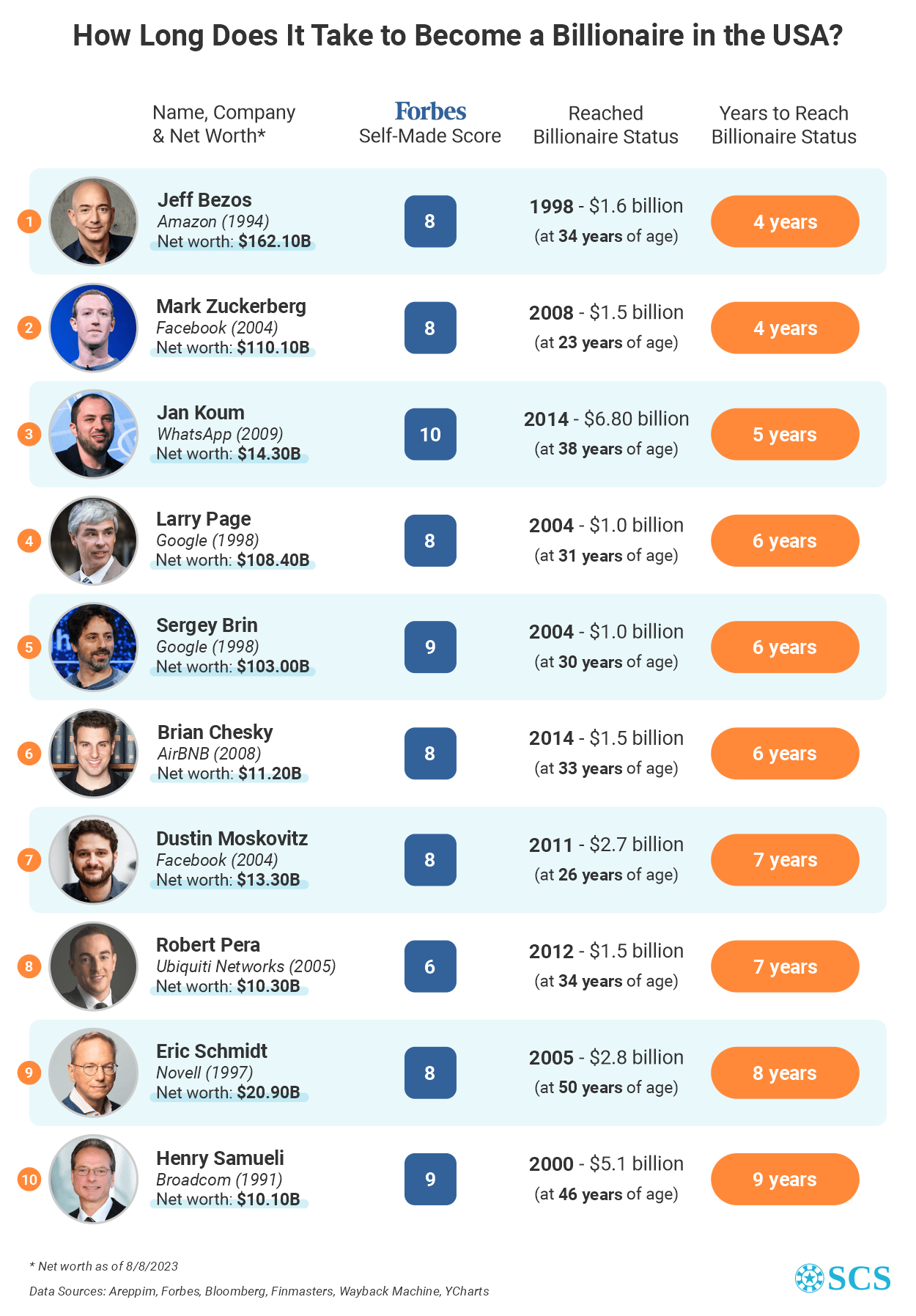 Key Takeaways
It took America's 50 richest self-made billionaires an average of 21½ years to earn their first billion in the US
The billionaires who managed to earn their first billion in the shortest amount of time are Mark Zuckerberg and Jeff Bezos–4 years, followed by Jan Koum (5 years), and Larry Page, Sergey Brin, and Brian Chesky (6 years)
These individuals were the youngest to reach billionaire status in our ranking—Mark Zuckerberg (23), Dustin Moskovitz (26), Sergey Brin (30), Michael Dell (31), Larry Page (31), and Bill Gates (31)
Eleven of the 50 richest billionaires in the U.S. made their first billion before they were 40—Jeff Bezos, Sergey Brin, Brian Chesky, Michael Dell, Bill Gates, Ken Griffin, Jan Koum, Dustin Moskovitz, Larry Page, Robert Pera, and Mark Zuckerberg
It took these billionaires the longest to amass a fortune of at least $1 billion—Judy Love (49 years), Harold Hamm (41 years), and Eric Smidt (40 years)
People become billionaires as early as their 20s and as late as their 80s
Having a 10-figure net worth is no small feat. It can take decades of hard work and diligence
Of course, some might find themselves luckier than others. Jeff Bezos and Mark Zuckerberg, for instance, made their fortune in just four years. Moreover, both of them had fairly humble beginnings. Bezos founded the e-commerce giant Amazon in his garage, while Mark Zuckerberg's Facebook was, at first, simply a project he undertook at college. Now, they are among the richest individuals in the US.
Zuckerberg also happened to be 23 when his net worth sky-rocketed to $1.5 billion, the youngest to reach billionaire status in the ranking. In contrast, Endeavor Energy Resources founder Autry Stephens was 80 when the experts at Bloomberg determined his net worth to be worth billions of dollars ($11.4 billion) in 2018.
The person whose billion dollar journey took the longest is Judy Love, who was first listed among America's richest in 2013, along with her late husband. Their joint venture, Love's Travel Stops & Country Stores, was established in 1964, which puts the gap between the start of her initial business and the year when she reached billionaire status at 49 years.
Although Judy Love and Autry Stephens represent a selection of individuals who found financial success in fairly traditional business ventures involving convenience stores and oil, respectively, a notable group of US billionaires made their fortune in the tech sphere. This includes Elon Musk, Bill Gates, Larry Page, and Jensen Huang, among plenty of others. What is more, over half the billionaires in the top ten ranking are tech tycoons, with Elon Musk taking the first spot with a net worth of a staggering $232.5 billion.
Methodology
Our team selected fifty US billionaires based on their net worth, as estimated by Forbes in their Real-Time Billionaires List as of August 8, 2023. Only self-made billionaires who have a self-made score of 6 or above were included. Moreover, in the cases where two individuals were included under the same Forbes profile, the net worth was divided by two in order to determine their respective net worths.
The year during which a given individual reached billionaire status was determined based on their net worth or their company's total assets at the time. Our primary data source is an archive housing past Forbes and Bloomberg billionaire lists, which can be found at Areppim. Other tools and sources of information include Forbes, Finmasters, Bloomberg, the Wayback Machine, YCharts, and annual reports of the companies Nike and Oracle.
We used the data to calculate the approximate age of each individual when they reached billionaire status and determine how long this took.