Recently, this trend has gone even further, with people using music not only to reflect emotions but to manifest good fortune into their lives via affirmations from song lyrics. This new trend is most prominent on social media, with over 5.6 million views on TikTok videos containing the hashtag #manifestationsongs.
With this in mind, BestCasinoSites.net sought to find out the best songs to listen to for good luck. We looked at a range of songs released by artists in Spotify's top 1,000 most streamed list to find out which had the highest volumes of 'lucky' words like 'blessing', 'triumph', and 'fortune'. By doing this, we were able to determine the best songs for good luck alongside the luckiest genres, as well as the best years for lucky songs.
Which Artists Have the Most Lucky Songs?
When it comes to songs about luck, rap dominates the charts. Every artist in the top five is a rap artist, with only six in the top 100 coming from other genres.
DJ Khaled tops the list, with 996 words relating to luck found over 214 of the Miami-born producer's songs. This means that Khaled, a man known for his high-profile collaborations with the likes of Justin Beiber and Jay Z, has 4.65 words relating to luck in his songs, on average.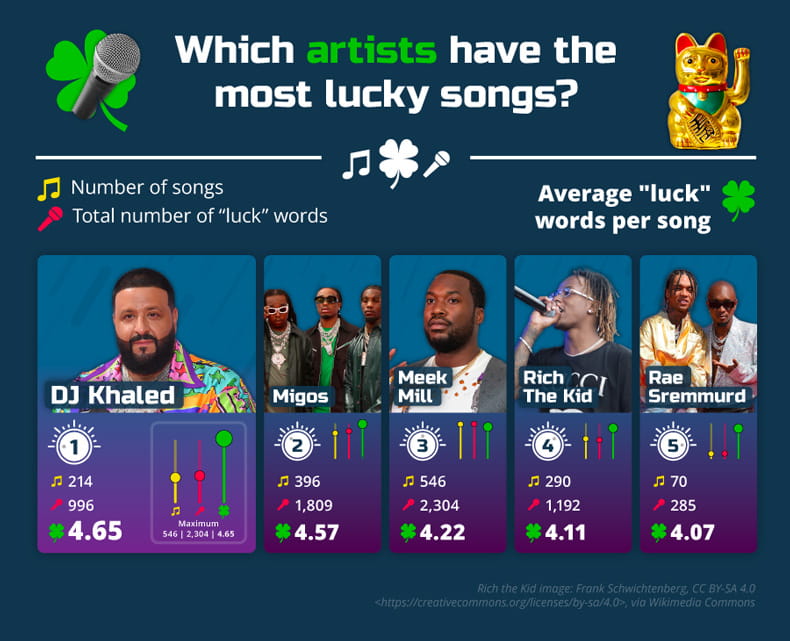 Following DJ Khaled is Migos, the Hip-Hop trio behind the 2021 hit 'Need It'. Despite having nearly double the number of luck-related words compared to DJ Khaled (1,809), Migos had a slightly lower average of 4.57 words per song due to having more songs (396).
Rounding off the top three is Meek Mill, the American rapper who collaborated with Drake in 2019 for the global hit 'Going Bad'. With more than 2,300 lucky words spanning 546 songs, Meek Mill's average number of lucky words (4.22) sat marginally ahead of fellow rappers Rich the Kid (4.11) and Rae Sremmurd (4.07).
Aside from rap, former Black Eyed Peas singer Fergie was the highest-ranking artist when it came to lucky songs. With an average of 2.26 luck-based words per song, the popstar behind the 2007 smash 'Big Girls Don't Cry' was ranked 44th overall.
Which Music Genres Have the Most Songs About Luck?
Yet again, rap dominates the charts when it comes to the genres with the most songs about luck. With a whopping 89,200 "luck" words found over 53,474 songs, rap has an average of 1.67 lucky words per song. This is more than four times higher than any other genre.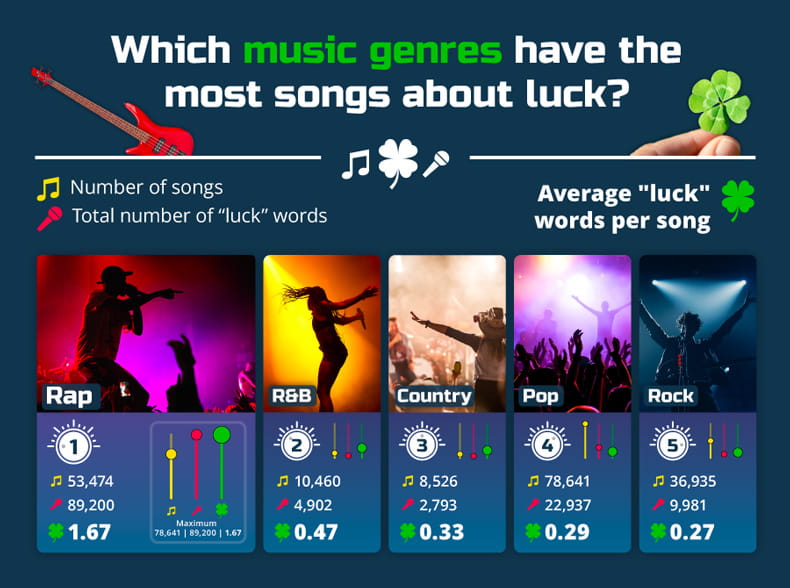 Though these figures place rap miles ahead of other genres, they don't tell the whole story. 90% of lucky words in rap songs are words relating to financial wealth, like money, dollars and bills. The word 'money' alone was used a combined 52,066 times — around 58% of the total of 'lucky' words used in rap songs.
R&B follows rap with an average "luck" word count of just under 0.5 (0.47) per song. Though 64% of R&B's overall count is related to money, this is substantially lower than the numbers for rap.
Country music has the third-highest lucky word count, with an average of 0.33 words per song, followed by pop at 0.29 and rock at 0.27. Similarly to rap, for these three genres, words relating to money accounted for over 60% of the luck-related words in songs.
When it came to luck words not relating to money, 'win' was the most common word for almost every genre. 'Win' was most prominent in rock music, where it accounted for over 13% of lucky words used, compared to 9% for pop, 8% for R&B, and 3% for rap.
The only exception was country music, where 'lucky' was the most regularly used 'luck' word not relating to money. Featuring a combined 358 times, 'lucky' was responsible for around 13% of the overall 'lucky' words in country music.
Which Years Featured the Most Lucky Songs?
There has been a massive leap in the number of lucky words used in songs over time. Of the top 20, 18 are from the 21st century, with 1998 and 1999 being the only exceptions from the 20th century.
2012 was found to be the luckiest of all when it came to music. The year, which saw the likes of One Direction and Carly Rae Jepson storm charts across the globe, had an average of 1.02 lucky words per song.
In second was 2016, a year dominated by smash singles from the likes of Justin Bieber and Drake. With an average of 1.01 lucky words per song, 2016 was the only year besides 2012 to have an average of at least one lucky word per song.
The top five years are made up entirely of songs released in the 2010s, with 2011, 2014, and 2017 taking the third, fourth, and fifth spots, respectively.
Which Decade Had the Most Lucky Songs?
When comparing decades as a whole, a dramatic increase can be seen in the use of lucky words from the '90s onwards. Between 1964 and 1969, the combined average of lucky words per song stood at just under 0.29. Things would decline when the carefree, hippy aesthetic of the sixties gave way to the seventies (0.27), before increasing slightly in the eighties (0.28).
The first big jump would occur in the nineties when the number of lucky words per song increased by 32% to 0.37. The nineties were a period in which hip-hop and rap rose to new levels of popularity, with artists like Tupac and Biggie Smalls breaking new ground for the genres. This has likely played a prominent role in the rise of cash-related words throughout the decade, with overall figures for the word 'money' rising from 90 in 1990 to 470 in 1999.
The average number of lucky words would accelerate by nearly 50% to 0.55 in the noughties before increasing by a further 61% in the 2010s (0.89). Interestingly, things have declined since, with the combined average for 2020 and 2021 standing at 0.67. During this time, cash-related words such as gold and dollar have more than halved from their peak in 2015.
The Ultimate 'Feeling Lucky' Playlist
With the use of music for positive affirmations taking social media by storm, the demand for 'lucky' songs has never been greater. While there are certain eras and genres in which songs about luck are more prevalent, there is a litany of iconic songs across the world of music that can inspire listeners with their positive message.
That's why we've collated a Spotify playlist containing the luckiest songs from our study—take a listen.
*Not all songs from the study are currently available to stream on Spotify
Methodology
BestCasinoSites.net sought to find out which music artists are the luckiest, the best songs to listen to for good fortune, alongside the luckiest years and genres. To do this, a dataset containing over 5 million songs from 1950 – 2022 was analysed. The dataset was obtained through Kaggle. Only music which qualified under the top 1,000 streamed artists on Spotify was utilised.
In order to analyse the lyrics with the most good fortune, lyrics were searched for over 30 keywords related to luck, including 'blessing,' 'fortunate,' 'success,' and 'triumph.' These words were lemmatised to allow for variations to be taken into account.
Following this, the data was aggregated by artist, release year, and genre
Only five genres were used in the data, so they have been somewhat consolidated into one another.
In the year aggregation, 2022 was excluded as the data set only extended halfway into the year.
These aggregations were weighted by the number of songs in each category, so as to not favour categories with a larger number of songs. Each aggregation was sorted by "Average 'luck' words per song."
Finally, the top 100 songs that contained the most mentions of our seed list of words were taken and put into a separate list. This forms our "Good Fortune" playlist.