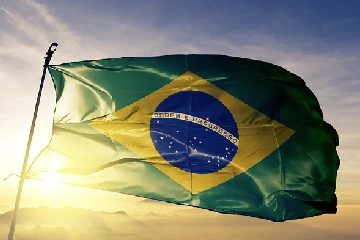 This Wednesday, the Brazilian lower house passed a gambling bill, which is now awaiting evaluation from the country's Senate. The bill encompasses both sports betting and iGaming, and it proposes an 18% tax on the gross gaming revenue (GGR) of licensed gambling operators.
On the social media platform X, formerly Twitter, Lower House Leader Jose Guimaraes noted how the new legislation would help fund the country's national reconstruction project. Guimaraes also highlighted that it would assist Brazilian authorities in tackling tax evasion.
Licensing and Tax Revenue Distribution
If the bill comes into effect, operators seeking to target a Brazilian audience will need to pay a licensing fee of R$30 million ($6 million). A license will be valid for three years. Gambling companies that have not obtained a license, on the other hand, will be prohibited from offering their services to Brazilian residents.
There will also be restrictions on who will be able to partake in the permitted gambling activities outlined by the law if the proposed regulations come to pass. Individuals involved in professional sports, as well as any person who has not yet reached the age of 18, will be prohibited from gambling on any form of sporting activity. Moreover, the law will also bar minors from playing games of chance on the web.
The tax revenue that will be generated from licensed operations is seen as one of the major benefits of regulating the country's gambling sector, seeing as the money will go toward funding various government institutions. The Ministry of Sports will receive a 4% share of the funds, and the Ministry of Tourism will also be entitled to 4%. Additionally, 2% of tax revenue will be allocated to Social Security.
Brazil's Gambling Legislation Throughout the Years
Gambling used to be a controversial subject in Brazil. The year 1941 saw an almost complete prohibition of casino and sports betting-related activities, with only lotteries and horse racing events being the exceptions. The decades to follow would not lead to any considerable improvements in the situation.
Excluding the 1993 legalization of bingo and slot machines, which did not last long, gambling remained illegal within the territory of the country until 2018, when bill No. 13.756/2018 came into effect. As a result of the law's passing, fixed-odds sports betting became regulated in Brazil.
The proposal that is to be evaluated has also undergone changes. The initial GGR-based tax percentage was set at 15% but was subsequently increased to 16% in Spring 2023. It reached its current size of 18% this July. Another update concerned how much different institutions would receive from the said tax, with the Ministry of Sports enjoying an increase that elevated the percentage to 4%, as opposed to the initially proposed 3%.