Summer is quickly coming to an end, and with it, the worldwide festival season. But with many people now looking forward to purchasing tickets for new and exciting concerts in 2024, news broke about the infamous Fyre Festival.
The 2017 event, which turned out to be a luxury, $26-million influencer-promoted scam, is set to return next year with the first 100 tickets already sold out, even though there is no information on the lineup or the location.
Meanwhile, November will mark the second anniversary of Astroworld, a music festival that proved fatal for ten concert-goers in Houston, Texas. From poor security and overcrowding to fires, floods and water shortages, music festivals have, in the past, ended in disaster.
The team at SuperCasinoSites set out to analyze the most common reasons why festivals fail. We looked at some of the largest and most popular music festival disasters of the past 50 years around the world in order to identify the most common issues that cause these events to go wrong.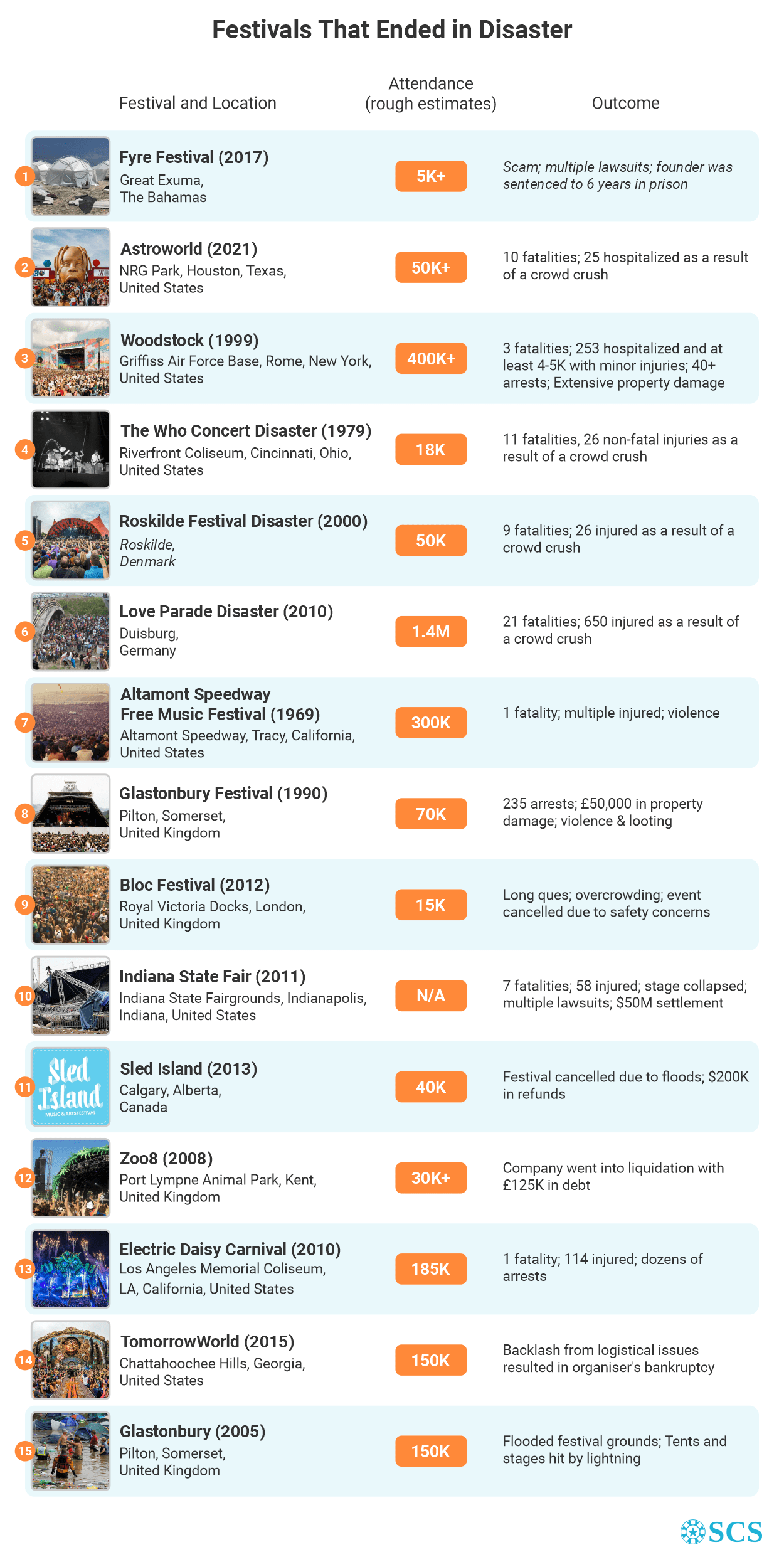 Festivals That Ended in Disaster
A host of problems can occur when you combine loud music, alcohol, and thousands of people gathered in confined spaces for two or three days at a time. Few, if any, music festivals have ever been organised and carried out perfectly, but minor issues are quickly forgotten. When there are serious issues, however, the event goes down in history as a tragic failure.
We picked five examples of notable music festivals that ended in disaster. The list does not include concerts where the disaster was caused intentionally, such as mass shootings or terror attacks.
Fyre Festival (2017)
Great Exuma, The Bahamas
Advertised as a luxury music festival with tickets priced up to $12,780, Fyre Festival offered tents and cheese sandwiches. The site was unprepared; rain had soaked tents and mattresses where people were expected to sleep, and there was no running water or sufficient portable toilets.
Once attendees realized they had been scammed, they tried to fly back home but there were no flights and no empty hotel rooms. For this fiasco, founder Billy McFarland was sentenced to 6 years in prison and $26 million in restitution (he only served four), whereas American rapper Ja Rule who was also a co-founder, was not charged at all. Along with the criminal investigation, there were at least eight lawsuits against McFarland and his company.
Astroworld (2021)
Houston, Texas
Founded by American rapper Travis Scott, the concert was cancelled following a crowd crush on the first night. The crush killed 10, while 25 people were hospitalised and many more were treated on-site for minor injuries.
Following the tragic event, an investigation found multiple issues with the festival's planning and security. On 29 June 2023, it became clear that Scott would not face criminal charges after a grand jury decided not to indict him. At least 275 civil lawsuits have been filed, seeking billions in damages. So far, only a handful have been settled.
Woodstock '99
Rome, New York
The legendary Woodstock festival in 1969 is remembered for its message of unity and peace and many festivals have tried to emulate it, including the now infamous Woodstock '99. The festival was held at a former military airfield – a terrible decision in hindsight; over the event's four days, the weather was hot and the tarmac only made things worse. Apart from the difficult environmental conditions, the overpriced food and water, poor sanitation, and excessive alcohol and drug use made people increasingly angry.
All this resulted in rioting, vandalism, violence, multiple cases of sexual harassment and rape. People were fighting, setting fires, and looting. Three people lost their lives, more than 250 were hospitalised. According to some reports, between 8 and 10,000 people were treated by medics on site.
Love Parade Disaster (2010)
Duisburg, Germany
Love Parade was a massive music festival, attended by an estimated 1.4 million people, many of whom were not allowed to enter due to overcrowding. Some festival-goers tried to enter the premises through a tunnel, causing a stampede and crowd crush which killed 21 and injured another 650.
In 2017, four staff of event company Lopavent and six city officials went on trial on charges of negligent manslaughter and bodily harm, which they denied. Nobody took responsibility for the tragedy and the trial was discontinued in 2020 due to the German statute of limitation period coming to an end.
Indiana State Fair (2011)
Indianapolis, Indiana
The 2011 edition of the Indiana State Fair was marred by a terrible accident that left seven people dead and another 58 injured. Minutes before country music duo Sugarland was about to go on stage, a gust of wind from a severe thunderstorm caused the roof of the stage to collapse on top of the spectators.
Multiple lawsuits were filed after the tragic event, one of which was settled for $50 million in 2014. The State of Indiana agreed to pay $11 million, while other defendants including Sugarland and Live Nation settled for $39 million.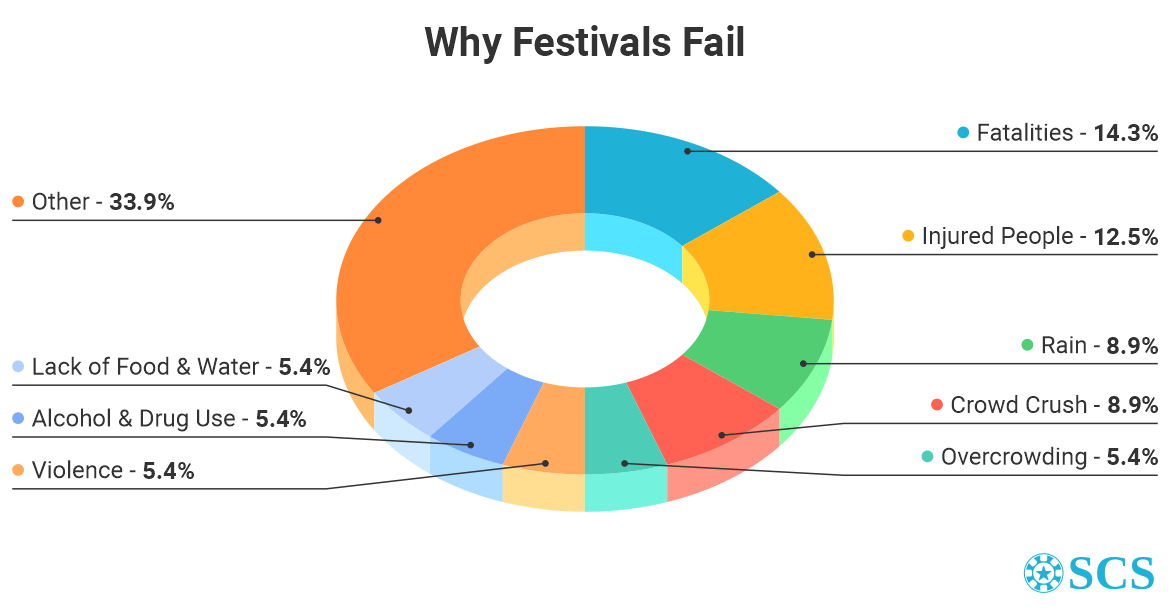 Top 3 Reasons Why Festivals Fail
Fatalities
Festival tickets are expensive and apart from entry, they should at least guarantee people's safety. Unfortunately, as seen from the above list of ill-fated festivals, accidents can happen and sometimes, lives are lost.
A lack of insurance, the presence of fatalities, and no lawsuit after the tragedy are common reasons why festivals go down in history as true disasters. The frequency of fatal accidents in the festivals we looked at was 14.3%.
Injured People
Even a perfectly organised event will feature people with minor injuries or illnesses: on-site medics frequently treat mild bruises and cuts, headaches and stomach problems, heat exhaustion and even alcohol poisoning. But when thousands of injuries are reported, it means something has gone terribly wrong. And indeed, injuries are among the most common reasons for festival failure.
Crowd Crush & Rain
One of the deadliest accidents that can happen at a music festival is a stampede or crush, which often causes serious injuries and can be fatal. Crowd crushes occurred in five of the 15 festivals we looked at.
Interestingly, rain, despite being considerably less dangerous, occurred at the same frequency. Rain may be harmless in most cases but at outdoor events it may cause flooding, ruined campsites, and property damage. Not to mention that rain can damage stage and sound equipment.