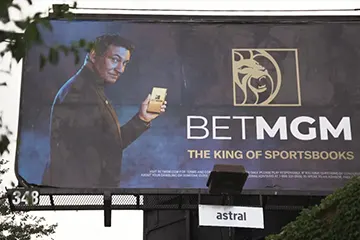 On Tuesday, Ontario announced it would prohibit gambling commercials that feature athletes and bolster standards regarding the use of celebrities. The move comes as part of the government's efforts to clamp down on gambling commercials that appeal to underage individuals. Despite the ban on gambling commercials featuring athletes and the strengthened standards for the use of celebrities in such ads, advocates, the New Democratic Party (NDP), and a Canadian senator have expressed concerns that the measures may turn out insufficient to protect vulnerable individuals from gambling addiction.
Advocates and academics have highlighted the saturation of sports betting advertising in Ontario since the province opened its market to online gambling sites last year, and have warned about the potential harm such commercials could have on the health of young people. The Alcohol and Gaming Commission of Ontario (AGCO) has updated the Registrar's Standards for Internet Gaming to prohibit the use of athletes, and the new restrictions are expected to become effective on February 28, 2024.
Hockey legend Wayne Gretzky and current NHL stars Connor McDavid and Auston Matthews are among the athletes who have appeared in gambling commercials. Tom Mungham, the AGCO's registrar and chief executive officer, explained that minors are easily influenced by celebrities and athletes, therefore, their participation in gambling commercials is not appropriate.
Surge of Sports Betting Ads Lead to AGCO's Recent Decision
The decision to ban gambling advertisements featuring athletes and celebrities was made after the AGCO held consultations on its proposal for the ban and received opinions from a host of stakeholders, including mental-health organizations, gambling experts, gaming operations, and the public.
Yesterday, AGCO issued a report, stating that the decision was prompted by the mounting criticism from parents, industry experts, and advocates about the surge in online gambling ads, especially during sporting events. The gambling authority noted that almost eight and a half minutes of sports gambling advertising was aired during the Toronto Maple Leafs game on May 2.
Canada regulated sports betting in August 2021, and Ontario became the first province to legalize single-event sports betting. In its statement, AGCO asserted that soon after Ontario regulated online sports betting, it realized that gambling commercials that feature athletes and celebrities appeal to minors.
Under the new standards, AGCO licensees are not allowed to use active or retired athletes in their marketing. However, operators can use athletes to promote responsible gambling practices. AGCO made it clear that the use of role models, social influencers, entertainers, and cartoon figures in gambling ads would be prohibited as of February 28, 2024.
Many Push for Outright Ban on Sports Betting Commercials
Canadian senator Marty Deacon, who introduced legislation this June seeking to ban sports betting ads with athlete and celebrity endorsements, welcomed AGCO's move but added that the province should allow such commercials only after a certain time. She noted that all Canadian provinces should introduce the same advertising standards to avoid confusion.
The Ontario New Democratic Party (NDP) also welcomed the province's decision but announced that it would push for an outright ban on gambling advertising. France Gélinas, member of the Provincial Parliament and NDP health critic, stated that the province must listen to the experts' advice and prohibit all gambling commercials.
Bruce Kidd, a professor emeritus of sports and public policy at the University of Toronto, who launched a campaign with colleagues in May calling for all sports betting ads to be banned in Canada, expressed his disappointment by the fact that the province would not implement an outright ban even though it realized that sports betting commercials could negatively influence vulnerable people and children.