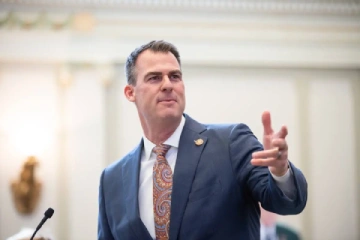 Oklahoma's new attorney general Gentner Drummond condemned Governor Kevin Stitt's hostile stance toward Native American tribes, which not only costs the state a lot of money but also threatens the relationship between the state and the tribes. Yesterday, Drummond explained that he would be stepping into a legal dispute over tribal compacts signed by the governor in 2020 at the request of Hose and Senate representatives.
In a personal phone call, Drummond informed the governor that he would be representing the state's interest in the lawsuit. The attorney general also wrote a letter addressed to Stitt, clarifying that he was asked to intervene in the lawsuit by House Speaker Charles McCall and Senate President Pro Tempore Greg Treat. Drummond wrote that the tribal agreements Stitt had signed in 2020 were invalid because the Oklahoma Legislature did not approve the governor's actions.
In his letter, the attorney general also noted that Stitt's negative posture toward the tribes and refusal to respect state laws led to costly litigation. Although Drummond and Stitt are Republicans and agree on many issues, the attorney general has criticized Stitt's behavior when it comes to Native American tribes. Stitt's office has not responded yet to a request for a comment on the attorney general's actions.
What Provoked Governor Stitt's Hostile Posture toward Oklahoma's Native American Tribes?
Drummond revealed that four of Oklahoma's most influential tribes, the Cherokee, Chickasaw, Citizen Potawatomi, and Choctaw nations, have already started a federal lawsuit against Stitt's gambling compacts with the Comanche Nation, the Otoe-Missouria, the Kialegee Tribal Town, and the United Keetoowah Band of Cherokee Indians. The governor hired law agencies to defend the agreements with the tribes but has racked up over $600k in legal fees.
In a bid to attract a greater share of revenue for the state, the governor signed the agreements with the four tribes after his attempt to renegotiate the gambling compacts with all of Oklahoma's tribes failed in 2019. He argued that the compacts approved by voters in 2004 had expired. However, a federal judge ruled in favor of the tribes, explaining that the compacts renewed automatically.
Since then, the governor has taken a hostile posture toward the Native American tribes. However, his behavior has been heavily criticized by fellow Republicans. Earlier this week, SuperCasinoSites reported that lawmakers may push the governor out of tribal negotiations and take matters into their own hands.
Gambling has been a proliferating industry in Oklahoma since 2004. The state is home to over 130 casinos, and the Native American tribes hold exclusive rights to casino-style gambling. Last year, the tribes paid the state nearly $200 million for their exclusive rights, which indicates that gambling is an important revenue contributor for Oklahoma. The money was used to support public schools.