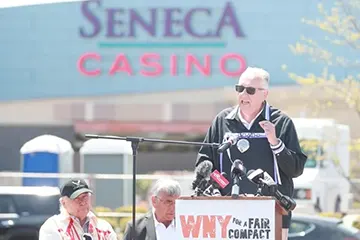 On Wednesday evening, it became clear that Governor Kathy Hochul is no longer recused from Seneca Nation gaming compact negotiations after her office issued a statement, asserting that Ms. Hochul has no direct or indirect financial interest that could potentially lead to a conflict of interest.
Hochul recused herself from negotiating a new gaming compact with the Seneca Nation shortly after she took office in 2021 due to her husband's ties to Delaware North – a competitor of Seneca gaming operations. But on August 15, her husband stopped working at Delaware North, meaning Gov. Hochul now has no reason to recuse herself from casino compact talks.
According to the statement issued by Gov. Hochul's office, her recusal memo was updated on August 15, and she is no longer recused from negotiations with the Seneca Nation. The statement also reads that the administration staff is still working with the tribe to reach a fair agreement that serves both parties' interests. Anonymous sources told reporters from media agency 2 On Your Side that the governor is to meet with Seneca Nation leadership.
Background of the Dispute over Seneca Nation's Gaming Compact
In June, the Seneca Nation announced that they reached a preliminary gaming compact agreement with New York State. According to sources, one of the provisions in the preliminary gaming compact agreement between the Seneca Nation and New York State was the establishment of a Seneca Nation-owned casino in Monroe County, specifically in the city of Rochester.
Seneca Nation President Rickey Armstrong Sr. revealed that 85% of the gaming compact was already arranged, but the outstanding issues were the most difficult. Armstrong believes that the tribe should pay less than 25% of its gaming revenue that it currently pays to the state, as the gambling industry has significantly changed since 2002, reducing the value of the exclusivity zone.
Lawmakers representing the area were not informed about it by Governor Hochul's negotiating team due to a non-disclosure agreement. This resulted in pushback from the Rochester delegation of the assembly, ultimately leading to the termination of the tentative agreement between the Seneca and the state.
Seneca Nation's gaming compact was signed in 2002 and is scheduled to expire this December. However, the tribe locked horns with the state in 2017 when it stopped sharing revenues with New York State. The tribe argued that they were no longer required to share casino revenue with the state during the renewal period.
As a result, the state brought the Seneca Nation to court. After three federal judges ruled in favor of the state, the Seneca Nation was required to pay the state nearly $565 million in revenue-sharing money. To force the tribe to release the payment, New York State froze Seneca Nation's bank accounts in March 2022. A month later, the Seneca Nation bought TV and radio ad time, criticizing Hochul for spending casino money on the Buffalo Bills stadium.