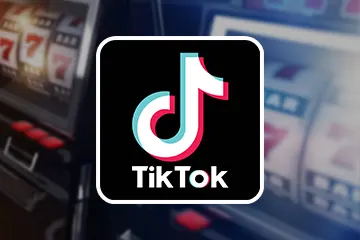 On Friday, Blake Carl Fitzgerald, a 40-year-old man from Edina, Minnesota, was charged in a Scott County court with three counts related to running an illegal gambling scheme and streaming his performance on TikTok. According to the local news outlet Bring Me the News, the man wagered remotely on behalf of over a hundred people who subscribed to his TikTok page. Fitzgerald is now facing up to three years of jail time and a hefty fine for running an illegal gambling scheme between October and December last year.
A criminal complaint states that the Minnesota man received payments of over $65k via Venmo and CashApp from his followers in order to play online slots for them at Mystic Lake Casino & Resort and Treasure Island Casino. Fitzgerald referred to his followers' payments as "deposits" or "donations" and even corrected them when they used the word "bets" or "wagers". According to the charges, the man would keep over half his followers' winnings and $25 for every $100 a customer "deposited" with him.
Fitzgerald used the payments he received from his followers to play online slots for them. He would verbally call on a subscriber by their name when it was their turn and ask them which slot machine they wanted him to play. But Fitzgerald would allegedly refund his customers' money if he "ran out of time to play for them", the criminal complaint claims.
Besides, Fitzgerald's followers had to pay $5.99 to be part of a private messaging group using the Discord app and have the Minnesota man wager instead of them. When their subscription to Fitzgerald's channel on TikTok expired, they had to pay $5.99 to renew it. Eventually, the two casinos revealed Fitzgerald's scheme.
Fitzgerald's Scheme Falls Apart after an Anonymous Individual Files a Complaint
On January 12, the TikTok channel's owner posted a video, informing his followers that he had been banned from Treasure Island and ejected from Mystic Lake Casino. The Minnesota Alcohol and Gambling Enforcement Division started an investigation into the illegal gambling scheme after an anonymous individual filed a complaint. The criminal complaint also states that Fitzgerald had an accomplice, but Bring Me the News did not reveal the name of the alleged accomplice in its report yet because they have not been formally charged with a crime yet.
Under state law, placing bets on behalf of someone else is illegal. Earlier this year, authorities revealed that on Fitzgerald's TikTok page, which had 165k followers, there were videos showing massive jackpot wins at slot machines, including one for $15k.
Meanwhile, Minnesota is still trying to legalize its sports betting market in a bid to boost state coffers and clamp down on illegal operations. However, Minnesota legislators have not found the right way to regulate the market yet because they also have to involve the Native American Tribes in the process.