With a GDP of $3.847 trillion in 2023, the United Kingdom is currently the 10th wealthiest country in the world, according to the International Monetary Fund. Some of this wealth is concentrated in only a handful of people, and in April, Forbes published its 2023 Billionaires List, which included 52 billionaires with British citizenship.
Interestingly, most of those featured in the Forbes list did not inherit their fortune, but in fact started with little to nothing, and managed to build impressive business empires through their ambition, strong work ethic, and entrepreneurial spirit. Many other factors contribute to financial success though, one of which is where you were born and raised. So, the team at SuperCasinoSites decided to identify the locations where the most self-made billionaires were born. It turns out many billionaires were born, and grew up, in or around London.
Methodology
To find the places that gave the UK the most billionaires, the team at SuperCasinoSites took all 52 individuals who are citizens of the UK from the 2023 Forbes Billionaire List and excluded the very few billionaires who inherited their wealth from their parents. We also sifted out those who were not born in the UK, including individuals born in territories that are no longer under British rule such as Bombay or Kuala Lumpur.
The resulting list of 33 self-made billionaires was, however, incomplete as for many of these entries, personal information such as birthplace is not readily available via their Forbes profile or dedicated pages on Wikipedia. So, we looked at birth and marriage records on the FindMyPast website, which provides transcripts of civil records from England and Wales including births between 1837-2006, civil marriage records, and more. By this point, no billionaires from Scotland or Northern Ireland were left on our list.
It should be noted that each billionaire's net worth is shown in U.S. dollars since this is the currency used by the folks at Forbes. We also calculated it in Great British Pounds (GBP) based on the exchange rate at the time of writing, where $1 is equivalent to approximately £0.78.
Another consideration when calculating the UK's best regions for billionaires is, due to moving county boundaries, some towns and cities cited as the birthplace of a billionaire were historically incorporated in a different county. Take Croydon as an example: until 1965, it was part of the county of Surrey and a county borough. It was then amalgamated into Greater London and is now part of the London Borough of Croydon in Outer London. To make some distinction between the places that have been within city limits for centuries, and those incorporated within the past few decades, we listed the towns and districts in Inner London as "London". Those located in Outer London are listed separately.
This Is Where the UK's Self-Made Billionaires Were Born
London emerges as the place where the UK's self-made billionaires are most likely to be born, with 7 individuals coming from districts and areas within Inner London. This is hardly a surprise as, compared to their peers born and raised in other parts of the country, those born and living in the central parts of the capital typically have better access to elite schools, which provide a solid foundation for higher education, and hence better career opportunities.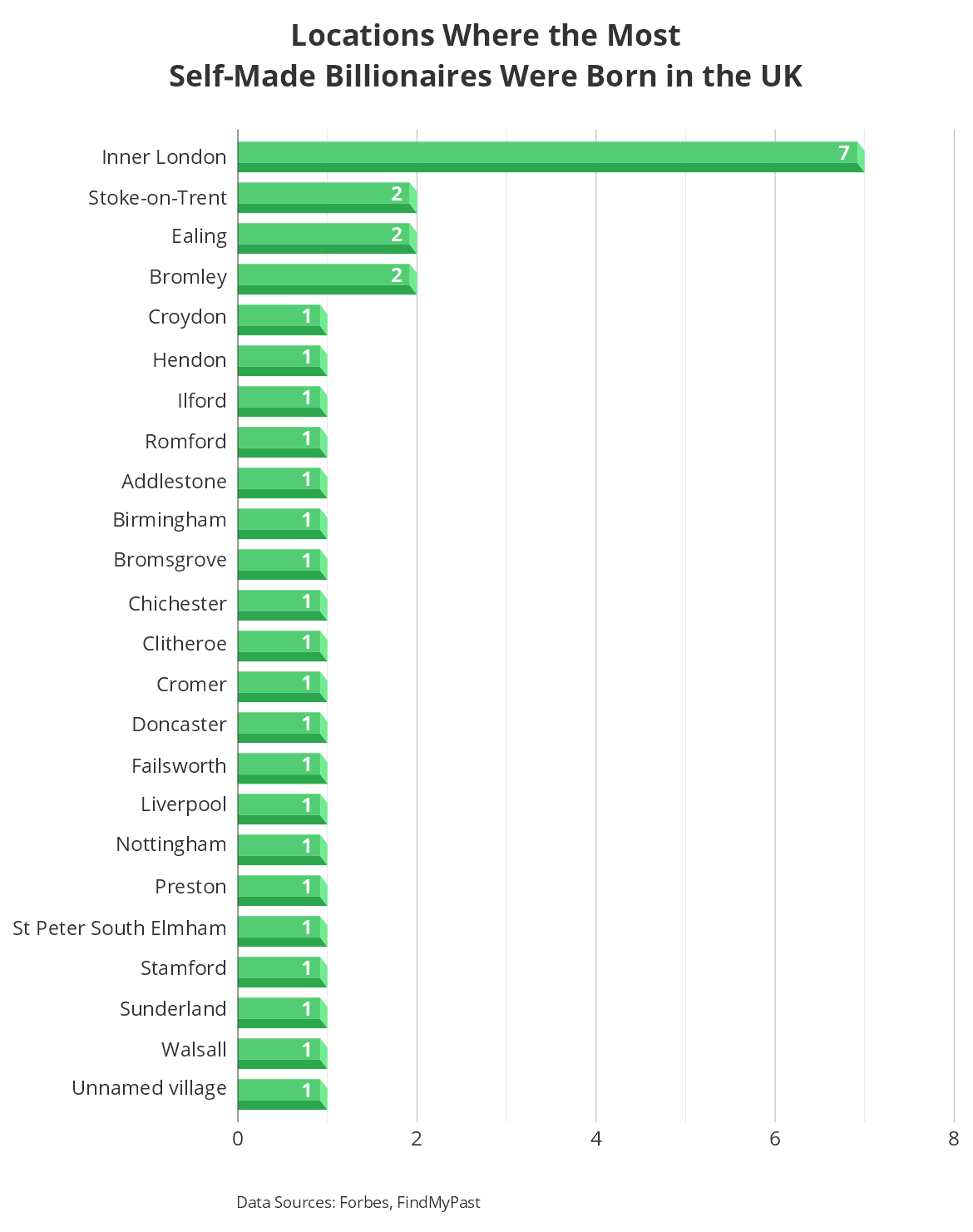 Inner London
The richest person born within the boundaries of Inner London is businessman and investor Joe Lewis, who has an estimated net worth of $6 billion, or £4.68 billion. Born in 1937, he and his family lived above a pub in Bow in the London borough of Tower Hamlets. World famous billionaire Richard Branson, the man behind the Virgin Group and whose net worth is $3.40 billion or £2.65 billion, was born in Blackheath, an area that sits between the boroughs of Lewisham and Greenwich.
The other billionaires native to Inner London are Laurence Graff, with a net worth of $3.40 bn/ £2.65 bn, Christopher Rokos with $1.50 bn/ £1.17 bn, Bernard Lewis with a net worth of $1.40bn/ £1.09 bn, Richard Desmond with a net worth of $1.20 bn/£0.94 bn, and Cristina Green with a net worth of $1.1 bn/ £0.86 bn.
Outer London Boroughs
Ealing, a London borough, is the birthplace of two billionaires, but it is listed here separately from London as it is located in Outer London. Brothers Ian and Richard Livingstone, each worth $4.3 billion, or £3.35 billion according to Forbes, were educated at St Paul's School, one of the leading private schools in London. It is unclear where exactly they were born but according to online sources, their family lived in Ealing.
Bromley, another borough in Outer London, is where two more self-made billionaires were born. These are Alex Beard, former CEO of oil and gas giant Glencore, who is now ranked as the 30th richest person in the UK with a wealth estimated at $2.10 billion, or £1.64 billion, and Mark Coombs, CEO of the Ashmore Group. At Ashmore, an asset management firm, Coombs managed to accumulate his vast fortune estimated at around $1.80 billion, or £1.40 billion.
Stoke-on-Trent
Stoke-on-Trent in Staffordshire is the birthplace of the billionaire siblings Denise Coates and John Coates, who are co-CEOs of the online gambling platform bet365. Its founder, Denise Coates, has an estimated net worth of $6.80 billion, or £5.30 billion, and is the wealthiest female executive in the UK. Her brother has a wealth of $3.10 billion, or £2.42 billion, making him the 23rd richest individual in the UK.
Regions with the Most Self-Made Billionaires per Capita
If we want to see the actual concentration of self-made billionaires, we need to take the population figures into account, as well. Once again, London comes on top, being the birthplace of 1.7 billionaires per 1 million people. No regions of Wales, Scotland or Northern Ireland are included here simply because the 2023 Forbes Billionaire List does not feature self-made billionaires who were born there.
With 5 billionaires in total or 0.84 per million residents, England's West Midlands ranks second, followed by the East Midlands with 3 self-made billionaires or 0.61 per one million people. England's North West region has 4 billionaires for a population of roughly 7.4 million, so it ranks fourth with 0.54 self-made billionaires per 1 million residents.
Industries That Helped the Most People Join the Billionaire's Club
No career path can guarantee long-term success, but working in particular sectors may prove to be a smart choice for those striving to become billionaires. Eight individuals from the 2023 Forbes Billionaire List generated their wealth in the financial sector. Most of them started out working for large companies but later focused on their own businesses, managing hedge funds or offering various other financial services.
Those eight include the second-richest person in the UK, Michael Platt, who as a co-founder of BlueCrest, Europe's third-largest hedge-fund firm, now has a net worth of $16 billion, or £12.47 billion. Christopher Hohn, another billionaire hedge fund manager, is the 7th richest person on our list. Hohn, who has a wealth of $6.70 billion, or £5.22 billion, was also listed by Forbes as one of the world's most generous philanthropists.
Outside of finance and investments, the industry that has helped the most people from the UK join the dollar-billionaire club is fashion and retail. A great example of this is Mike Ashley, who established Sports Direct, now part of the Frasers Group, back in the 1980s, and through various acquisitions and investments, he turned the company into the UK's largest sports-goods retailer. Ashley is a successful business executive, entrepreneur, and a former owner of Newcastle United F.C.
Raw Data
UK Rank
Name
Age
Birthplace
County
Source of Wealth
Industry
Additional
Net Worth
1
James Ratcliffe
70
Failsworth
Greater Manchester
Chemicals, INEOS Group
Manufacturing
$22.90
2
Michael Platt
54
Preston
Lancashire
Hedge funds, BlueCrest Capital Management
Finance & Investments
Investments
$16
3
James Dyson
76
Cromer
Norfolk
Vacuums
Manufacturing
Investments
$9.30
4
Andrew Currie
67
Doncaster
South Yorkshire
Chemicals, INEOS Group
Manufacturing
$7.60
4
John Reece
66
Sunderland
Tyne and Wear
Chemicals, INEOS Group
Manufacturing
$7.60
6
Denise Coates
55
Stoke-on-Trent
Staffordshire
Online gambling, Bet365
Gambling & Casinos
$6.80
7
Christopher Hohn
56
Addlestone
Surrey
Hedge funds, The Children's Investment Fund Management
Finance & Investments
Investments
$6.70
11
Joe Lewis
86
Bow
Greater London
Finance & Investments, Tavistock Group, Tottenham Hotspur
Finance & Investments
$6
14
Michael Ashley
58
Walsall
West Midlands
Sports retailing, Sports Direct
Fashion & Retail
Investments
$4.80
15
Ian Livingstone
61
Ealing
Greater London
Real estate, L&R
Real Estate
$4.30
15
Richard Livingstone
58
Ealing
Greater London
Real estate, L&R
Real Estate
$4.30
17
Tom Morris
69
Liverpool
Merseyside
Retail, Home Bargains
Fashion & Retail
$3.70
18
Alan Howard
59
Hendon
Greater London
Hedge funds, Brevan Howard Asset Management
Finance & Investments
$3.60
19
Richard Branson
73
Blackheath
Greater London
Virgin Group
Diversified
$3.40
19
Laurence Graff & family
84
Stepney
Greater London
Diamond jewelry, Graff Diamonds
Fashion & Retail
Investments
$3.40
23
John Coates
53
Stoke-on-Trent
Staffordshire
Online gambling, Bet365
Gambling & Casinos
$3.10
26
John Caudwell
70
Birmingham
West Midlands
Mobile phones, Phones 4u
Telecom
Investing
$2.90
26
Bernard Ecclestone & family
92
St Peter South Elmham
Suffolk
Formula One
Sports
$2.90
29
Peter Hargreaves
76
Clitheroe
Lancashire
Financial services
Finance & Investments
$2.40
30
Alex Beard
55
Bromley
Greater London
Mining, commodities, Glencore
Metals & Mining
$2.10
30
Dennis Gillings
79
Ilford
Greater London
Clinical trials
Healthcare
$2.10
32
Michael Ashcroft
77
Chichester
West Sussex
Security
Finance & Investments
$2
34
Simon Nixon
55
Stamford
Lincolnshire
Price comparison website
Technology
Investments
$1.90
36
Mark Coombs
63
Bromley
Greater London
Finance, Ashmore Group
Finance & Investments
$1.80
39
Anthony Langley
68
Nottingham
Nottinghamshire
Manufacturing
Diversified
$1.60
40
Christopher Rokos
52
Hammersmith
Greater London
Hedge fund
Finance & Investments
$1.50
42
John Bloor
80
Unnamed village
Derbyshire
Real estate, manufacturing, Triumph Motorcycles
Diversified
$1.40
42
Bernard Lewis & family
97
Old Street, Central London
Greater London
Fashion retailer, River Island
Fashion & Retail
$1.40
45
Richard Desmond
71
Hampstead, London Borough of Camden
Greater London
Publishing, Northern & Shell
Media & Entertainment
$1.20
45
Ben Francis
31
Bromsgrove
Worcestershire
Fitness clothing, Gymshark
Fashion & Retail
$1.20
48
Cristina Green
74
Paddington
Greater London
Fashion retail, Topshop
Fashion & Retail
$1.10
48
Philip Green
71
Croydon
Greater London
Fashion retail, Topshop
Fashion & Retail
$1.10
51
Mark Dixon
63
Romford
Greater London
Office real estate, Regus
Real Estate
$1