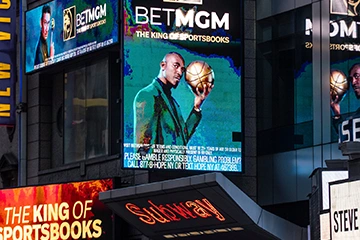 The excessive number of gambling commercials has prompted Canadian Senator Marty Deacon to urge legislators to implement strict marketing rules. Although she is not calling for a complete ban, she wants some limits to be introduced. According to Ms. Deacon, gambling commercials can be dangerous because they encourage people to gamble. The results of various studies come to support her opinion, revealing a correlation between increased exposure to gambling advertising and problem gambling.
A recent poll revealed that 48% of Canadians think that sports betting companies advertise excessively in Ontario. Canada regulated single-game betting in 2021 but forgot to implement specific rules regarding gambling advertising. Presently, sports betting ads can be seen everywhere in Ontario. Ms. Deacon, who is representing Ontario's Waterloo region as an independent, claims that most of the gambling ads attract the attention of minors because they feature celebrities or athletes.
That is what made Ms. Deacon introduce legislation seeking to regulate sports betting advertising and impose a ban or limit celebrity endorsement in such commercials. Her bill would also limit the number of ads displayed in a location. Interestingly, Deacon supported the legalization of single-game betting, and now, her goal is to introduce gambling advertising rules similar to those applied to alcohol and tobacco commercials. Ms. Deacon said that something must be done to prevent vulnerable classes before it is too late.
Betting Ads Featuring Celebrities Pervades Canadian Radio, TV, and Online Airwaves
Ms. Deacon added that the implementation of a bill is a time-consuming process because it has to go through a second and third reading before being discussed by the House of Commons. However, she is optimistic that lawmakers will back her legislation. Ms. Deacon also noted that many Canadians are concerned about the negative impact gambling commercials could have on their children.
Canada's sports betting industry is thriving, and figures come to prove this. For the 2022-2023 fiscal year, Canadian sportsbooks' handle reached $7 billion for the first 12 months after the legalization of single-event wagering and generated a revenue of $433 million. In terms of handle, basketball was the most popular game in Canada, accounting for 29% of the overall amount wagered on sports. Soccer was the second most popular sport in terms of handle (accounting for 15% of the overall handle), followed by football (13%) and hockey (9%).
However, sports betting companies have gone too far with their advertising strategies. Not long ago, a hockey fan said that nearly nine minutes of sports betting commercials were aired during the Toronto Maple Leafs game against the Florida Panthers. Those who watch sporting events on their mobile phones see even more gambling ads. Next to that, some soccer players have sports betting ads on their jerseys.