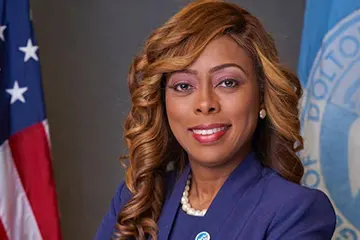 The owners of Lacey's Place have recently filed a complaint against the village of Dolton and its Mayor Tiffany Henyard, alleging that the village has blocked the renewal of their liquor license for their Dolton location because they have not donated to Henyard's campaign fund. The complaint accuses Henyard and the village of violating their rights by refusing to act on their liquor license renewal application.
Lacey's Place LLC operates over three dozen video gaming establishments in southwest suburban Dolton and elsewhere in Chicago's suburbs and downstate Illinois and has held a valid liquor license for its Dolton establishment for years. Lacey's tried to renew its license before expiring at the end of April, but its request had been denied.
The village and Henyard are represented by attorneys from the Del Galdo Law Group, who explained that a federal court must deal with the case because Lacey's claimed Dolton violated its due process rights under the U.S. Constitution and Illinois Constitution, meaning it s a federal case.
What the Lawsuit against the Village and Its Mayor States?
According to a complaint filed by Lacey's, the village refused to renew all liquor licenses prior to completing its "tax audit". Lacey's alleges that individuals and businesses that have not donated to support Henyard's election campaign could not renew their liquor licenses. The complaint also states that village agents informed business owners that their licenses would be renewed immediately after the tax audit.
Businesses that sell alcohol need a municipal liquor license as well as a state permit. The suit states that only businesses with valid liquor licenses could obtain gaming licenses. Thus, Mayor Henyard's refusal to renew Lacey's liquor license also threatens its gambling operations.
Lacey's Palace claims that its liquor license expired the same day it filed documents to renew it. According to records, the state renewed Lacey's liquor license for its Dolton location until the end of July next year. The lawsuit does not provide details on the allegations that the reason for the mayor's refusal to renew Lacey's liquor license is political. Instead, it states that there is no logical reason for the mayor's decision. According to the lawsuit, the village did not hold an administrative hearing on the matter, too.
Making Contributions to Political Campaigns is Usual for Local Businesses, Records Reveal
Illinois State Board of Election records reveal that Lacey's Palace has never donated to the mayor's political campaign called Friends of Tiffany Henyard. Records also indicate that other popular locations in Dolton with liquor licenses have made substantial donations to the mayor's campaign fund. However, it is not uncommon for local businesses to support political campaigns. A curious fact is that Friends of Tiffany Henyard has received a donation of $14,700 from a law firm called Delgado Law Group, which is registered at the same address as the law agency representing the village and Henyard in the Lacey's Palace lawsuit.
There are rumors that the Dolton Park District plans to take legal actions against the village and Henyard after Dolton authorities installed concrete barriers at a park where a car show was supposed to take place last Saturday. Park Board President Cleo Jones declined to reveal what allegations against the village and the mayor could be made but explained that Park District is a separate district with its own governing board. He added that the situation requires drastic action.