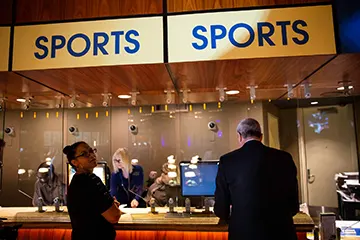 A year ago, Kansas joined the ranks of states that legalized sports betting. On September 1, it will be one year since the state launched sports betting at state casinos. The new form of gambling brought a lot of changes for land-based casinos and gambling addiction initiatives. According to the Kansas Lottery, sports betting generated $5.8 million in tax revenues during the first year of operation.
Since the launch of sports betting in the Sunflower State, some of the nine casinos in the state even extended their working hours and hired more people. Doug Lang, Kansas Star Casino's vice president and general manager, told reporters from the local NBC affiliate that more people visit the gambling venue to watch games, which allows the casino staff to introduce visitors to their gambling offerings.
The Kansas Racing and Gaming Commission (KRGC) said that the process of introducing the new form of gambling to the state was plain sailing. Figures show that sports betting is a popular pastime across the Sunflower State. Kansas sports betting generated a total of $1.67 billion in handle between July 2022 and June 2023. During that period, Kansas sportsbooks earned $149.1 million in revenue.
However, the sports betting handle was $79.7 million for July 2023, which is a 19% decrease compared to June's total of $98.1 million. According to industry insiders, this decline can be attributed to fewer sports betting options available during the summer months. Nonetheless, the football season is expected to bring in more revenue.
Taxes paid on gambling winnings in Kansas depend on annual income and tax brackets. The Kansas Lottery imposes a flat rate of 5% on big wins to cover state tax.
The Growing Sports Betting Industry Raises Concerns about Gambling Disorders
As sports betting became legal in the state, concerns were raised about the negative impact of gambling. South Central Kansas Problem Gambling Task Force chair Stephenie Roberts revealed that the number of calls to the problem gambling helpline has slightly increased. Roberts announced that the possibility to bet through your smartphone makes a significant difference. She elaborated that the easy accessibility to sports betting increases the risk of developing gambling problems.
The KRGC stated that about 150 people opted to exclude themselves from sports betting in the first year. Sports betting is expected to increase in the second year because people feel more comfortable with placing bets on their phones or at casinos. Industry insiders recommend punters to limit the amount of money and time they spend on wagering.
As sports betting grows, the task force calls for more advertising for the helpline and more measures to prevent kids from accessing bets on their phones. The Kansas Coalition on Problem Gambling (KCPG) provides treatment for free to people with gambling problems.