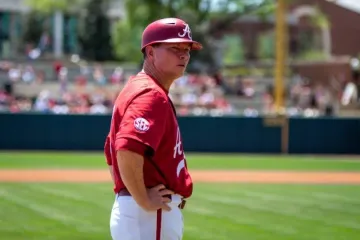 An Indiana man is facing prohibition from entering and wagering at Indiana casinos and sportsbooks due to suspicious betting activity, as was revealed to ESPN by the Indiana Gaming Commission (IGC).
According to the IGC's Deputy Director, Bert Neff, father of the University of Cincinnati baseball team member Andrew Neff, was added to the IGC's exclusion list following allegations of suspicious bets that were placed at Great American Ball Park in April 2023. The bets involved a SEC baseball game between the LSU and Alabama, where allegedly Neft wagered on the LSU to beat the other team.
Media reports indicate that suspicions were raised due to the wager's alleged size of up to $100,000. The subsequent investigation of security footage showed Neff communicating with Brad Bohannon, a former Alabama baseball coach who lost his position following these findings.
This violation occurred around a month after Kyle Sprague and Andy Nagel, ex-staff members of the Cincinnati baseball team, were fired for alleged breaches of NCAA legislations. These firings were also said to be tied to Bert Neff, although his attorney maintains that Neff was not involved in the matter. Following the firings, Scott Googins resigned from his position as Cincinnati head baseball coach.
Sources Indicate That Neff Wagered Thousands On More Than One Occasion
ESPN revealed text messages showcasing correspondence between Neff and Googins, where Neff would share betting slips and request coaching jobs. The text records were initially sent to Trevor Wright, associate director of compliance at the University of Cincinnati, in May, and were provided to ESPN as per request by the network.
Neff's messages were sent between January and May and were predominantly one-sided. They show that the alleged LSU and Alabama bet was not the first time he had wagered dozens of thousands of dollars on sports events.
In a text dated Jan.21, Neff revealed that he had placed a $40,000 parlay wager on a match between the Chiefs and the Giants, while in February, he shared that he had wagered a figure of $195,000 on tennis. It should be noted that the texts did not contain any information on college football bets. These messages also support the claims of anonymous sources that contacted ESPN, as it was said that Neff had a reputation for being a gambler who would, at times, wager up to $50,000 in a single day.
Besides this situation, US higher education has faced other gambling-related scandals in 2023. The year started off with threats by bettors directed at the University of Dayton's men basketball team over the loss of a game.
The month of May was also rocky, as apart from the situation in the states of Cincinnati and Alabama, Iowa was faced with its own gambling scandal. On May 2, Iowa law enforcement contacted the University of Iowa regarding potential NCAA violations tied to illegal wagering. The situation invovled a total of 111 individuals. University officials would later state that 26 of those involved were student-athletes, alleged to have partaken in sports betting.