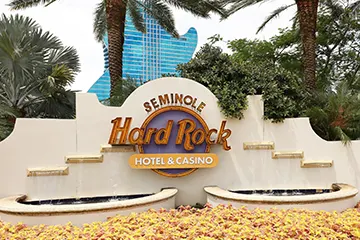 Following a D.C. Court of Appeals ruling from last Friday, online sports betting could make a fresh start in Florida. The owners of Magic City Casino and Bonita Springs Poker Room were denied a rehearing in front of a full circuit court.
What they challenged was a multibillion-dollar 2021 agreement between Governor Ron DeSantis and the Seminole Tribe. As previously covered by SuperCasinoSites, the agreement, known as a compact, gave the latter exclusive rights over statewide online sports betting for 30 years.
The Indian Gaming Regulatory Act is the federal law governing gambling on Indian land. The piece of legislation only permits gambling on Indian lands and nowhere else.
In exchange for the exclusive rights over online sports betting within the state, the Tribe agreed to pay a minimum of $2.5 billion over the first five years of the agreement.
The Seminole Tribe's Hard Rock Sportsbetting app was launched shortly after the agreement had been concluded. However, it was operational for just over a month, after the owners of Magic City Casino and Bonita Springs Poker Room filed a lawsuit challenging the legitimacy of the compact between the state of Florida and the Seminole Tribe.
It remains to be seen if the US Supreme Court will hear this complex case, which has brought online sports betting in the state of Florida to a standstill for nearly two years.
In today's digital age, wagering via a mobile sports betting app is what customers prefer. Depending on the course of events, online sports betting could resume in the Sunshine State through the Seminole Tribe's Hard Rock Sportsbook app.
If this soon becomes a reality, it would present an advantageous business opportunity, considering the 2023 NFL season is in full swing. According to estimates, online wagering on the popular football league could generate more than $1 billion worth of proceeds. Daniel Wallach, gaming industry attorney said that if the tribe waits till next year to relaunch the app, that would represent "a lost revenue opportunity".
Will Online Sports Betting Resume in Florida?
The Seminole Tribe expressed its contentment with the present course of events and the latest court ruling. However, it refrained from delivering further information on a prospective relaunch of the online sports betting app.
On the other hand, the owners of Magic City Casino and Bonita Springs Poker Room confirmed filing a motion in the US Court of Appeals to keep the app non-operational before appealing the case to the Supreme Court. Provided that the court denies the motion, the Seminole Tribe would be allowed to relaunch its online app.
The closing of this complex case and the future of the sports betting landscape in Florida are yet to be decided. With billions of dollars waiting on the line, sports betting enthusiasts in Florida look forward to the final resolution.