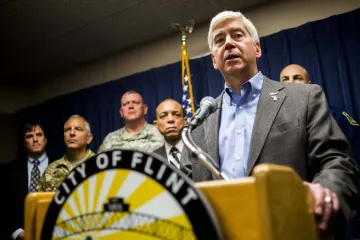 Flint officials met with Michigan Gaming Control Board Executive Director Henry Williams at the end of August to consider tactics for inhibiting illegal gambling within the state. The discussion was especially well-suited and timely considering the then-upcoming Responsible Gaming Education Month, organized by the American Gaming Association (AGA). Furthermore, the state of Michigan has been particularly proactive in curbing illegal gambling operators' activity during August and September.
September 2023 marks the 25th anniversary of AGA's operations, with each week of the month being dedicated to a unique theme. Last week, the AGA highlighted legal, regulated gaming, which safeguards players' interests and delivers a safe and transparent environment across the country.
The Michigan Gaming Control Board has been particularly productive in stifling illegal gambling operations over the course of August and September. All forms of gaming and sports betting activities that are not properly regulated by the Michigan Gaming Control Board constitute illegal gambling. To operate legitimately within the state, gambling providers must have a license, otherwise, they may become subject to criminal charges and fines.
Starting with the regulator's August raid of one of Flint's storefront casinos, The Flint Arcade, the alleged illegal operator parted with 48 computers, two gaming machines, and more than $13,000 worth of gambling proceeds. The area has been a regular site of forays into illegal gambling operations. Last year, the local authorities shut down The Cellular Vault in the exact same location.
Flint Mayor, Sheldon Neeley, expressed his readiness to work closely with Michigan Gaming Control Board Executive Director Henry Williams to eradicate illegal gambling in the Flint community.
Online gambling operators offering unregulated and unlicensed gambling products to Michigan residents did not remain unnoticed, either. More specifically, in September 2023, the Massachusetts-based Golden Hearts Games charity-focused casino was forced to cease its operations within the state. Following Michigan Attorney General, Dana Nessel's threat of a lawsuit by the state the operator agreed to sign an Assurance of Discontinuance.
Sources to Cope with Unauthorized Gambling Providers in Michigan
Since November 2022, a total of 48 land-based gambling locations have received cease-and-desist letters. Going further back to January 2015, through July 2023, the Michigan Gaming Control Board's operations resulted in the seizure of 1,195 unlawful machines and more than $470,000 worth of illegal gambling proceeds.
Michigan residents can help in the combat against illegal gambling by reporting illegal or suspicious gambling activity to the Michigan Gaming Control Board. This can be done through a dedicated phone line, email, or by submitting an online form, available on the website of the regulator.
The American Gaming Association's Responsible Gaming Education Month continues with its "Building a Responsible Gaming Culture Within" week from September 18 to September 24. The last week of Responsible Gaming Education Month will be dedicated to "Advancing Responsible Gaming with Research".