Our research unveiled some interesting trends regarding how Canadians from different provinces and cities feel about Christmas. Let's take a look.
Holiday Anticipation Across Canada
In a surprise twist, New Brunswickers—largely regarded as the friendliest, cheeriest Canadians—are actually the bah humbuggiest. How much do they look forward to Christmas, on a scale from 1 to 10? Around 6.3, on average. The Canada-wide average is significantly higher, coming in at 7.4.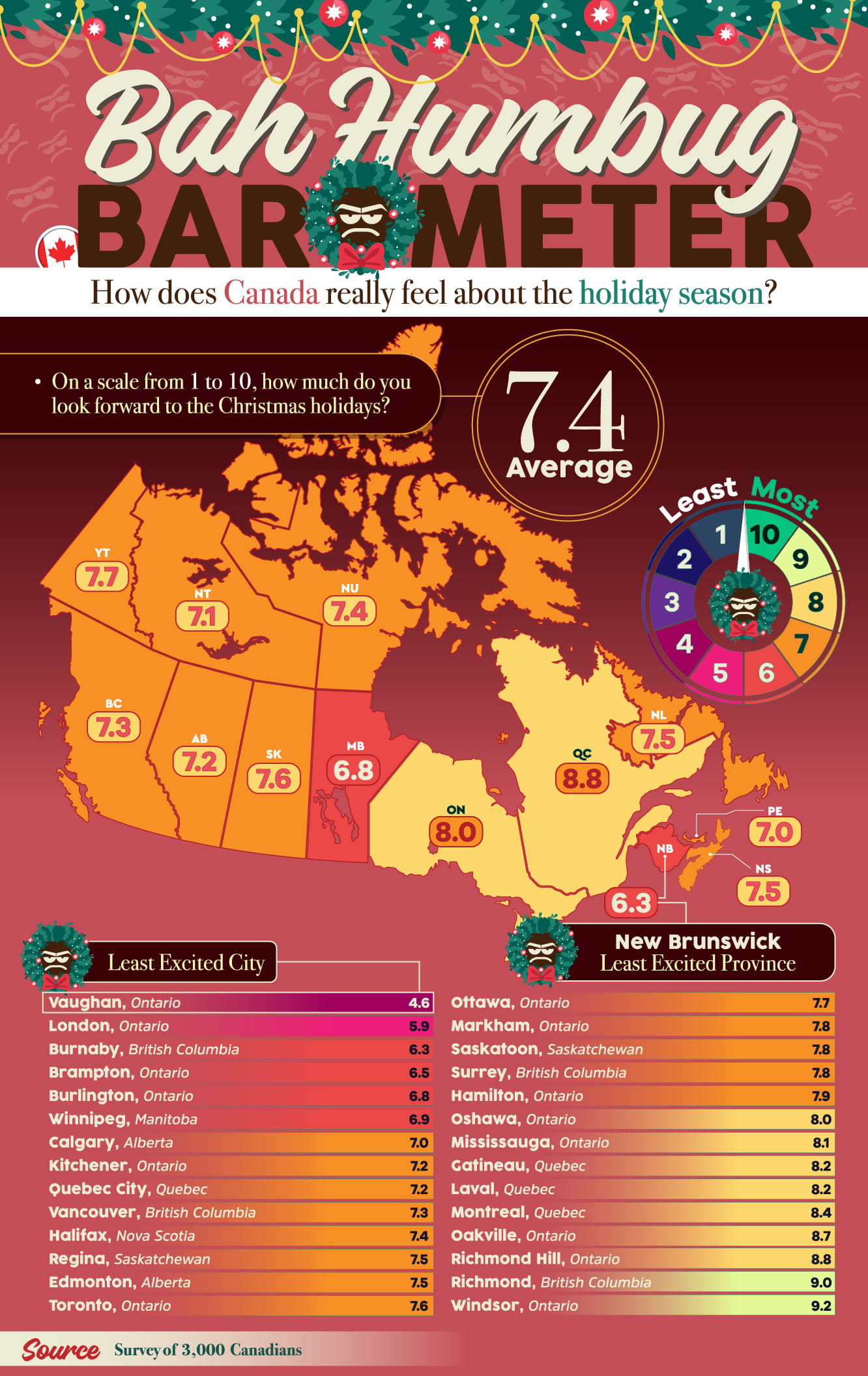 Prince Edward Island is the third Sroogiest province during the holiday season, scoring an average of 7.0 on the excitement scale. You might think that an east vs. west trend is emerging, but Quebec breaks that pattern since it's the province that looks forward to Christmas the most, with an average anticipation score of 8.8.
Ontario is the most polarized province when it comes to looking forward to the holidays. Residents of Windsor, Ontario, can't wait for Christmas, responding with an average of 9.2, but people from Vaughan dread the holidays, judging by the 4.6 average ranking its residents respond with.
Western Canadians show similarly diverse feelings about the holidays. Residents of Richmond, British Columbia, report a level of excitement of 9.0, while people from Burnaby, BC, say they feel more like 6.3 towards Christmas, on average. Guess Santa won't be getting the GOOD cookies this when he touches down in Burnaby…
The Provinces LEAST Excited for Christmas, Ranked
New Brunswick
Manitoba
Prince Edward Island
Northwest Territories
Alberta
British Columbia
Nunavut
Newfoundland and Labrador
Nova Scotia
Saskatchewan
Yukon
Ontario
Quebec
The 15 Canadian Cities LEAST Excited for Christmas, Ranked
Vaughan, Ontario
London, Ontario
Burnaby, British Columbia
Brampton, Ontario
Burlington, Ontario
Winnipeg, Manitoba
Calgary, Alberta
Kitchener, Ontario
Quebec City, Quebec
Vancouver, British Columbia
Halifax, Nova Scotia
Regina, Saskatchewan
Edmonton, Alberta
Toronto, Ontario
Ottawa, Ontario
Where are You, Christmas?
Only 62% of survey respondents say they feel joy and excitement towards the Christmas season.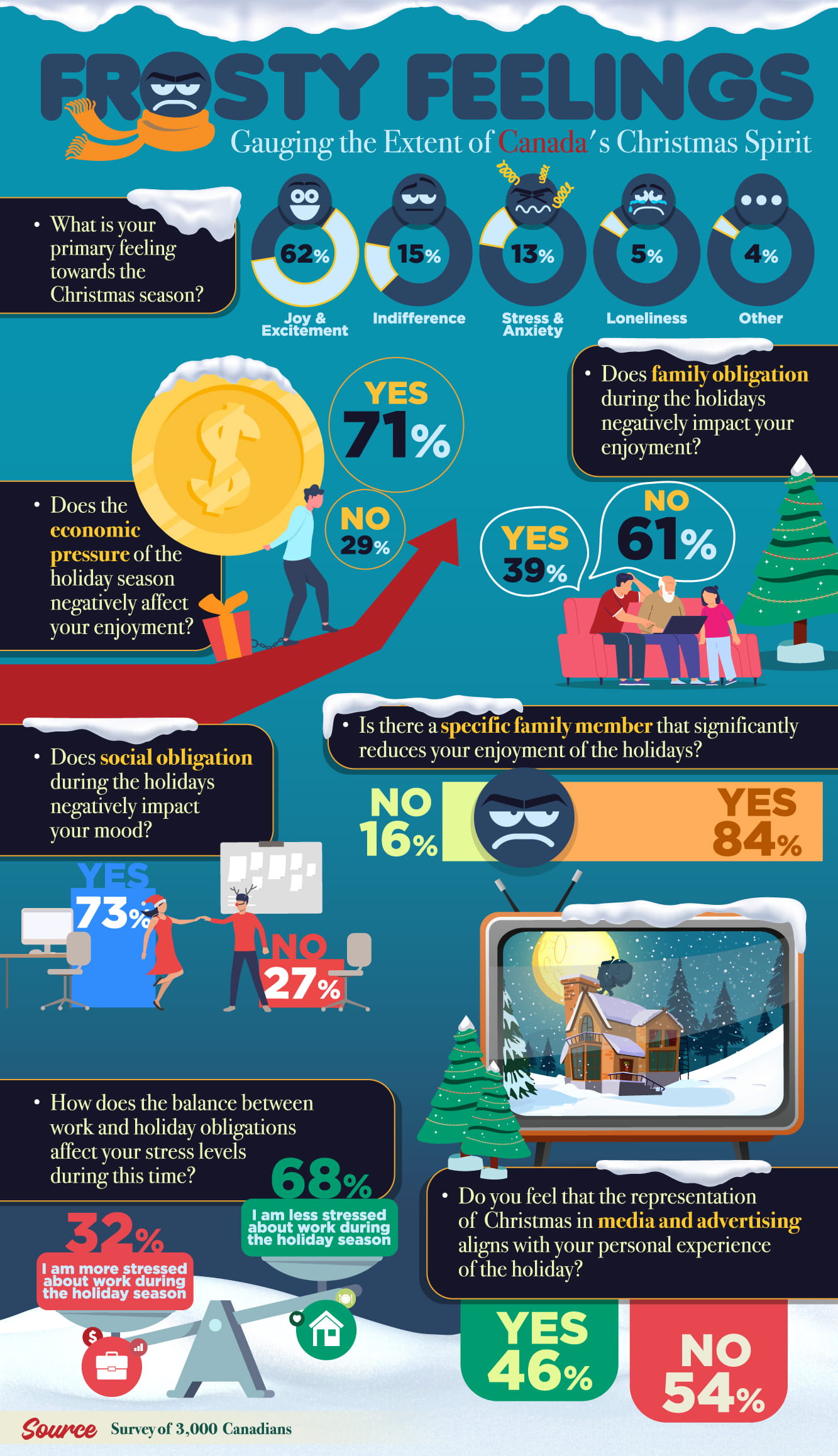 We don't want to bum you out, but that means a whopping 38% agree with Cindy Lou Who and can't find joy around the holidays. If that's not a dagger to the heart, we don't know what is.
A sizable 15% of Canadians say they're indifferent toward the holidays, while 13% say it stresses them out. We're not sure if feeling indifferent is better or worse than feeling stressed, but together, feeling lackadaisical and anxious are the most frequent emotions felt by Canadians at Christmas after joy.
Loneliness was the fourth most common emotion, making up 5.3% of responses. And that just breaks our heart. Come down from Mount Crumpit and share some roast beast with us.
So what gives? What is it, exactly, that's robbing Canadians of their holiday cheer? The answer, according to our data, is not the Grinch; it's money.
Nearly three-quarters—71%—of Canadians say that the economic pressure of the holiday season limits their ability to enjoy Christmas. Additionally, 61% of responders report that family obligations negatively affect their mood around the holidays, and 73% say that social obligations—work parties, gatherings with friends, etc.—put a damper on their holiday spirit.
Perhaps surprisingly, only 32% said that they feel more stressed about work during the Christmas season. That means that finances—and NOT the fact that you have to see your annoying Aunt Edna or deal with Greg from accounting at the holiday party—are far and away the greatest source of holiday stress for the vast majority of Canadians.
That's What Christmas Means to Me
Think about the word "Christmas". Christ is right there in the name, and yet only 12.5% of Canadians say they attend religious services during the holiday season. Canadians are overwhelmingly more likely to participate in gift-giving—79%—or decorating—63.4%—than they are in religious events.
It's reasonable to assume that as religions continue to lose followers every year, replacing the holiday season's previous focus on community with pressure to buy more things may be contributing to the increasing number of people who feel fa-la-la-la-lost during the holidays.
We're not experts or anything, but something about standing in line all night at Best Buy, waiting to stampede through the store and wrestle someone for a big-screen TV, might make people feel a little less fond of the holidays.
The data loosely supports this hypothesis: 54% of the people we surveyed report that the representation of Christmas in the media and advertisements doesn't align with their personal experience of the holiday.
While that's not a dramatic difference, the fact that more than half of responders feel that Christmas is misrepresented in popular culture is a smoking gun, in our opinion. Perhaps a Red Ryder carbine-action 200 range model air rifle with a compass in the stock and a thing that tells time.
Wrapping Up: Tying a Bow on Canada's Christmas Feelings
When Michael Bublé comes out of hibernation, only 62% of Canadians feel excited about it. It's not overbearing family members, work stress, or too much on the holiday calendar that stresses people out. According to our data, it's financial pressure.
An overwhelming 71% of Canadians say they feel increased financial pressure during the holiday season, and 54% say they don't feel like Christmas is represented appropriately in media and advertising. It's almost like co-opting a time traditionally meant for spending time with friends and family and turning it into a way to boost revenue is bad for people's mental health. Almost.
Methodology
We surveyed 3,000 Canadians in November 2023 to learn how they really feel about the holiday season. The survey participants were 52% women, 47% men, and 1% nonbinary/other, with a median age of 32. Our survey included questions about their primary feeling toward the holiday season and how social obligations affect their mood around Christmas.
Fair Use
Our content and visuals can be shared for any non-commercial purpose. If you share our content, please link back to this page to acknowledge our original research, writing, and image production.