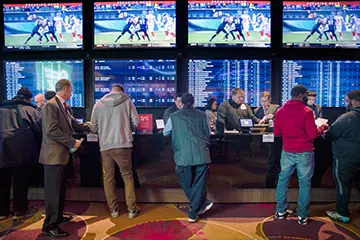 During a meeting scheduled to take place today, Rochester's City Council will discuss the possibility of allowing residents to decide whether or not they want a sportsbook in the city. If city councilors approve the casino referendum today, it could be added to the November 7 general election ballot after a City Council vote in September and a public hearing in October.
Rochester Mayor Paul Callaghan seems optimistic that council members will approve the casino referendum, explaining that the City Council has already passed a gaming ordinance, which states where a charitable casino could be located in the city and outlines other requirements. Maura McCann, a spokesperson for the New Hampshire Lottery Commission, explained that all three sportsbooks currently operating in the state are located inside charitable gaming facilities as required by the ordinance. She revealed that 16 other cities have submitted applications to host retail sports betting facilities in an attempt to boost their economy.
However, this is not the first time Rochester residents have been asked whether or not they want a sportsbook in the city. The first casino referendum took place in 2019, but Rochester voters rejected the proposal with a vote of 1,488-1,439 against it. Thus, if council members agree to put the question on the upcoming ballot, there is no guarantee that Rochester voters will back the casino project this time.
What Special Requirements Sportsbooks Must Meet to Operate in New Hampshire?
According to state law, New Hampshire can host up to 10 retail sports wagering locations, which must be located inside charitable gaming facilities. In 2019, the New Hampshire Lottery Commission signed a contract with DraftKings to manage online and retail sports betting operations in the state. At the moment, New Hampshire hosts three DraftKings Sportsbooks located in Dover, Manchester, and Seabrook.
New Hampshire has some specific rules for sportsbooks regarding their locations outlined in the Rochester gaming ordinance. Betting shops must be located inside a charitable gaming facility and can only be permitted in certain areas, such as the city's highway commercial zone or the Granite Ridge zone. Besides, operators must obtain a conditional use permit to locate their casino at The Ridge shopping plaza.
The ordinance also stipulates that any sportsbook casino must have a gaming floor of at least 20,000 square feet, excluding space for accounting, maintenance, surveillance, security, administrative offices, and storage. There are some specific requirements regarding the parking space. For instance, the parking lot must include space for bus parking and bus loading and no less than 0.75 parking spaces per gaming position in the casino.
Furthermore, at least 2% of parking spaces must have electric vehicle charging stations, with at least four per site. Finally, there are standards in place for outdoor entertainment noise, architecture, and landscaping.