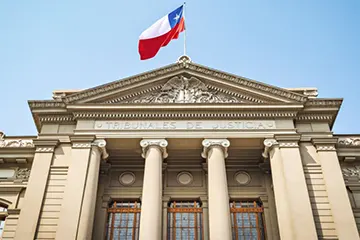 Following the Chilean Supreme Court ruling from September 9, 2023, all online sports betting operators who have penetrated the local market must end their business activity in the country. The order is with immediate effect, hence, nearly 20 gambling providers must be blocked on the grounds of illegal operations.
This occurs due to a complaint filed by iGaming company Polla Chilena de Beneficencia against telecom Mundo Pacífico in 2022. The former is a state-run entity responsible for the administration of gambling services within Chile, as per the current regulations. Mundo Pacífico, on the other hand, is one of the leading providers of telecommunication services in the South American country.
The legal complaint was meant to restore Polla Chilena de Beneficencia's exclusive rights over the sector in Chile and obstruct Mundo Pacífico, along with the offshore sports betting providers that use it, from providing their services to local punters.
Even though the complaint was initially dismissed by the Court of Appeals of Concepción, the Supreme Court overturned the decision and Polla Chilena de Beneficencia emerged victorious from the battle. The court order classifies offshore sports betting providers as illegal and establishes the state-run entity as the sole legitimate provider of gambling activities of this type in Chile. Mundo Pacífico can no longer broadcast or promote any form of gambling services and products unless it obtains legal permission.
Additionally, the court ruling stated that those who promote or participate in gambling on such websites violate regulations and are subject to criminal sanctions.
The Consequences
Some of the blocked online sports betting providers include Betano, Betway, Coolbet, Betsson, and Betwarrior, among other popular brands. According to the resolution, the list of blocked online betting brands comprises a total of 12 companies. However, more brands will be obliged to cease their operations. Ultimately, all those online sports betting operators that have invested thousands of funds in establishing their strong presence in the Chilean gambling market, now must pull out of the country.
Besides offshore sports betting operators, this court decision impacts nearly 800,000 customers from Chile.
Earlier this month, the Chilean Ministry of Justice banned the ANFP's (the National Association of Professional Football) partnerships with gambling operators. The ANFP was given 30 days to terminate the partnerships. The prohibition was unanimously opposed, arguing there is no legal ground to suspend the said partnerships. Consequently, Chilean football clubs demanded guarantees from the government that the balance should be restored through the update of the online gambling legislation in the country.
As per the current regulations, the Chilean gambling market has a monopoly structure restricted to three entities that can legally offer gambling services: Polla Chilena de Beneficencia (football pools), Loteria Concepción (lottery retailer), and Teletrak Chile (pari-mutuel horse racing).