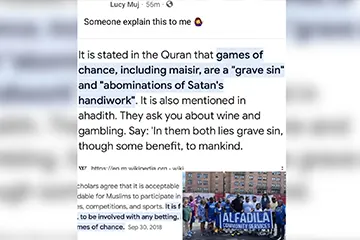 Brooklyn Community Board 13 chair Lucy Mujica Diaz faces mounting criticism due to a Facebook post in which she questions the religious beliefs of Muslim residents wearing "Coney" shirts, sponsored by a pro-casino group in Coney Island. Her post ignited an uproar within the community, raising religious discrimination concerns and questioning Ms. Diaz's role as a leader responsible for representing people of different religions, opinions, and cultures.
Lucy Mujica Diaz, an ardent opponent of bringing a casino to Coney Island, wrote on Facebook that gambling is a "grave sin" and "abominations of Satan's handiwork" according to the Quran and posted a photo of members of Afadila Community Services (a group advocating for Islamic residents and children) who wore white and blue shirts sponsored by a Coney Island consortium, which hopes to secure one of the three downstate casino licenses that New York is to award.
The consortium includes developer Thor Equities, gaming operators Saratoga Casino Holdings and The Chickasaw Nation, and Legends – the sports and entertainment firm co-owned by the Yankees. The proposed casino would be established close to the storied Brooklyn boardwalk and beach.
In response, the Muslim founder and executive director of Afadila Community Services, Marie Mirville-Shahzada, wrote a letter dated August 17 to Mayor Eric Adams, Brooklyn Borough President Antonio Reynoso and Councilman Ari Kagan (R-Brooklyn), explaining that the photo that Ms. Diaz posted on her Facebook page depicts children with disabilities, including her own autistic kid.
She urged officials to remove Lucy Mujica Diaz from her position as a Brooklyn Community Board 13 chair due to her recent anti-Muslim attacks, bullying, and insensitivity to parents with disabled children. In her letter to the politicians, Marie Mirville-Shahzada wrote that Ms. Diaz's Facebook post unrightfully questioned her religious beliefs and parenting skills.
Brooklyn Community Board 13 Chair Refuses Allegations of Assaulting Muslims
Mirville-Shahzada explained that the controversial event took place on August 14. She said that the event was a community celebration co-hosted by Afadila Community Services and the Isaiah Whitehead Foundation, and included food, games for kids, music, and basketball games for children with disabilities. Mirville-Shahzada added that one of the event's sponsors was Brooklyn USA Basketball, which also provided the t-shirts at issue, claiming there were no casino discussions.
In a statement, Ms. Diaz said that her post did not include any attacks or hate language. She rejected Alfadila Community Services and Councilman Ari Kagan's claims that her words intended to assault Muslim residents.
Kagan acknowledged that Mujica Diaz should not have questioned Muslim residents' faith in the casino debate and asked her to apologize and undergo sensitivity training. However, the councilman did not ask for Diaz's resignation or removal. Kagan told journalists from The Post that he condemned Diaz's actions and that incitements to hatred on grounds of race or religious beliefs is a serious offense.
Mujica Diaz stated she never questioned anyone's faith and explained that her words were wrongly understood. She even provided emails, proving that she agreed to meet with Mirville-Shahazada and learn more about the Muslim faith before she urged politicians to ask for Diaz's removal.